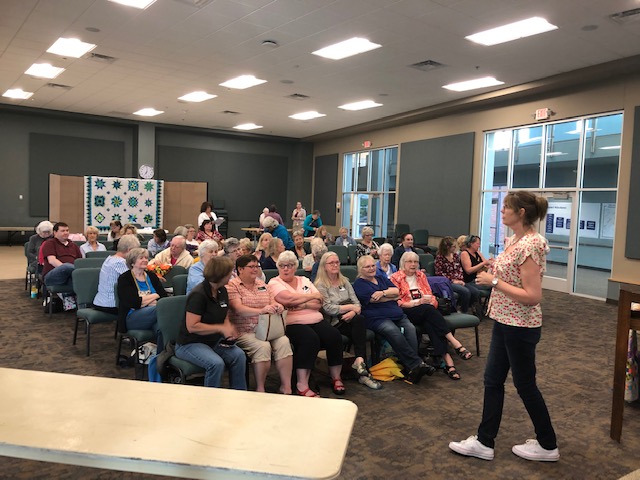 Who We Are
WOW Quilt Guild offers the opportunity for quilters to meet and become friends with others interested in quilting. The objective of the WOW Quilt Guild is to stimulate interest in quilts, to promote and advance the art of quilting in all forms through educational programs , workshops, community projects and social activities where members share their knowledge and skills.
In 1997, a small group of quilters decided to start the Women of the West Quilt Guild because there was not a guild serving the West and Northwest area of the Twin Cities. The WOW guild met in Medina for many years, then 2015 WOW moved to the Plymouth Area. In 2019, the guild voted to update their name to WOW Quilt Guild.
What We Do
Lectures and Presentations – speakers explore all the many dimensions of this tradition and art.
Birthday Club – birthday celebrants bring a gift bag for their birthday month, and members purchase chances to win them.
Show and Share – members share their completed quilts and works-in-progress. Come see our gallery of quilts presented at meetings.
Community Service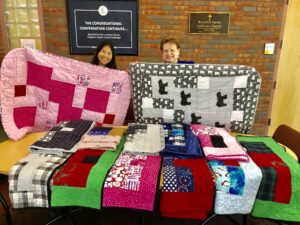 Community Service is a long-standing part of the quilting tradition in America.  Women of the West Guild cares for those in need and offer our quiltmaking skills to make a difference in our community.  Our guild members actively concentrate on making and providing quilts for Quilts of Valor, Meals on Wheels, Methodist Hospital, nursing homes, and more. Please contact our Community Service Chairperson, Judy Mages to learn how you can get involved in our various service opportunities.
Almost since the beginning of the guild, we have had a Block of the Month exchange.
Meetings
WOW meetings are held on the fourth Monday of each month at 7:00 P.M. Our current meeting location is St. Barnabas Lutheran Church, 15600 Old Rockford Rd, Plymouth, MN. Meetings are also streamed through Zoom for those unable to attend.
Membership and Guest Info
Annual membership is $30/year. Renewal is on the calendar year. Meetings are free for members and $5 for guests. Members receive a monthly guild newsletter. To sign up, just come to our monthly meeting.